Alicante is a port city on the Costa Blanca in Spain. It is the capital of Alicante province. You can explore the city's historic center, with its narrow streets and colorful houses, and its nightlife scene, in Barrio de la Santa Cruz. In addition, you can see the medieval Castillo de Santa Bárbara, which stands on a hilltop and offers panoramic views of the Mediterranean coast.
Casco Antiguo
Explore Alicante's charming old quarter, Casco Antiguo, by foot. Explore the streets and alleyways, and sample the best Spanish tapas in this colourful, atmospheric area. If you have children, you might want to visit the eighteenth-century sanctuary, which is the focus of Easter Week celebrations.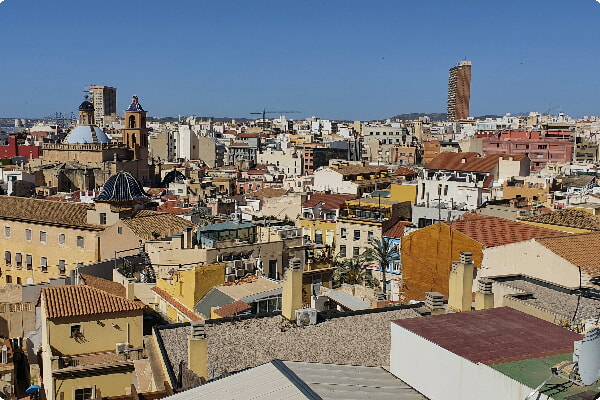 Mercado Central de Alicante
For the best local flavor, visit the Mercado Central de Alicantes (Central Market). This market dates back to 1921 and has expanded to two floors and over 200 stalls. It is open seven days a week, from 7am to 2:30pm. On weekends, it is open from 8am to 3pm. Tours are available to taste local fare and enjoy the sights.
Playa del Postiguet
Located in the center of Alicante, Playa del Postiguet is a picturesque beach. You can relax on the beach's calm waters and enjoy the view of the city. You can also enjoy the sun and play beach volleyball. If you're looking for a day out with family and friends, Postiguet Beach is a great choice. The beach is open all year round and is safe for people of all ages. There are also public restrooms and lockers available at the beach. Also, there are refreshment stands and recreational areas around the beach. The beach is easily accessible by car or public transport.
Villajoyosa park
If you're a chocolate lover, you'll want to visit the Valor chocolate factory in Villajoyosa. The factory opened in 1998 and you can go on a free tour. You can also see the machinery used to make chocolate. Tours are offered in English and Spanish. Tours start at 11 am and 4 pm. Limited numbers are available, so it's best to book ahead.
Hogueras de San Juan festival
The Hogueras de San Juan festival is a celebration of the summer solstice. It is a popular fiesta all over Spain, and especially impressive in the city of Alicante. The festival dates back to 1928, and is one of the most famous in the entire region. During the festival, people burn useless objects to celebrate the summer solstice.
Restaurants
If you are looking for something to do in Alicante that is both inexpensive and tasty, one of the best options is eating in a restaurant. The city offers many different types of cuisines. From tapas to grilled seafood, the city has plenty of options.
Nightlife
The nightlife in Alicante is vibrant and diverse. The city has hundreds of bars and clubs to choose from. There are many gay bars as well as clubs that cater to all music tastes. One of the most popular areas is the Barrio, a pedestrianized area filled with outdoor seating and bars. The area is known for its thriving nightlife and is a popular place for tourists to spend their evenings.