Having a local guide to guide you through Montmartre is a great way to get the most out of your visit. Not only will you be able to learn about the history and culture of this beautiful city, but you'll also be able to find hidden gems that most tourists miss.
Basilica of Montmartre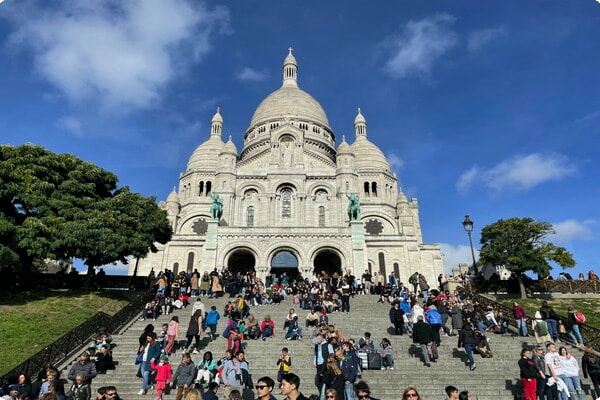 Located in the Montmartre district, the Basilica of Montmartre is one of the most famous landmarks in Paris. It's a Roman-Byzantine masterpiece. It features a mosaic that depicts Jesus rising.
In the 18th arrondissement, Montmartre is a popular tourist destination. It's located just a few kilometres northwest of Paris' city center. It's a hilly district with cobbled streets, staircases, and more. It also has a number of restaurants and bistros.
There are two metro lines that operate in the Montmartre district. These include line 2 and line 7. It is easy to visit the Basilica of Montmartre from the Abbesses Metro stop.
The Basilica of Montmartre features a large mosaic that depicts the rising of Jesus. This mosaic is the largest in France.
Le Clos Montmartre
Located in Montmartre, Le Clos Montmartre is a vineyard that was created in the 1930s. Today, it is one of the last remaining vines in the center of Paris. The vineyard is located on a hillside and receives plenty of natural light. The vines produce white and red grapes. They produce approximately 1500 half liter bottles of red wine annually. These wine bottles are auctioned and the proceeds are used for social and community projects in Montmartre.
Le Clos Montmartre has 1,700 vines of different varieties, including white, rose, and red grapes. There are also fruiting trees and insects houses. The vineyard is open for guided tours.
Place Dalida
Amongst the tourist attractions in Montmartre, Place Dalida is one of the prettiest. The square was originally built to honour French musical icon Dalida. It is also a popular place for photoshoots.
The square is surrounded by cafes, restaurants, and boutiques. It is also home to a bronze bust of Dalida. The bust was unveiled to commemorate the 10th anniversary of her death.
The square also boasts amazing views of the city. It is located just a few blocks from Sacre-Coeur. It's best visited in the evening to take advantage of the 360deg views of Paris.
One of the best places to see in Montmartre is the Salvador Dali museum. This museum features over 300 artworks by Dali. It can get a little busy at times, but it's worth a visit. It is also the only museum dedicated entirely to Dali in France.
Terrass' Hotel
Located in the heart of the romantic Montmartre, Terrass' Hotel is a historic 19th century building. It has been a favorite spot of artists for more than 100 years. Its location is just outside the center of Paris, but it is still close to the major tourist attractions.
It is situated on the corner of rue Joseph de Maistre and rue Caulaincourt. It is within walking distance of many cafes, boutiques, and restaurants. It is also close to the Basilica of the Sacred Heart of Paris.
Terrass' Hotel Montmartre is pet friendly. You can bring your furry friends for an additional nightly fee. The hotel also provides airport transportation. Guests can book a variety of excursions with a local guide. These include Wine and Bistro Tour, Polaroid Tour, and Hidden Montmartre Cultural Tour.
Museum d'Art Naif Max Fourny
Whether you're looking for a fun and adventurous tour or one that is a little more laid back, there are several different kinds of Montmartre tours available. You can find a tour that includes a little local history, background information, and exploration of some of Montmartre's hidden gems. You can also find a tour that focuses on Montmartre's art and music.
The Museum d'Art Naif Max Fourny is one of the most unique museums in Montmartre. This small but lovely museum features works of art from both the permanent and temporary collections. It also offers a cafe and bookshop. The museum is open all day, and it hosts a number of different cultural events.
Funicular
Historically, Montmartre has been a place where artists, writers and creatives congregated. Many famous artists have called Montmartre home, including Vincent Van Gogh and Pablo Picasso. It is also home to one of the oldest cabarets in Paris, the Au Lapin Agile.
Montmartre also has an impressive basilica. The basilica of the Sacred Heart is one of the most famous landmarks in Paris. It is built on the top of a hill in Montmartre. The basilica is a white landmark that serves as a central place of worship. The basilica is surrounded by lawns and steps that lead to the square Louise Michel.
The Sacre-Coeur basilica is the most symbolic monument in Montmartre. The basilica features a giant mosaic of France. It also has a beautiful facade.