Whether you're looking for an exotic vacation or just a relaxing retreat, Greece has something for everyone. Some of the best islands to visit include Corfu, Milos, and Zakynthos. These islands are ideal for families and couples alike. Each has something unique to offer, from a relaxing beach to stunning mountain scenery.
Skyros
Located in the Aegean Sea, the Greek island of Skyros is part of the Sporades archipelago. This stunning island is renowned for its beautiful beaches, sea caves, and seaside villages. In the northern part of the island is the charming town of Skyros, which features white cube-shaped houses and the ruins of a Venetian kastro.
Milos
When visiting Milos, it is worth spending some time in the capital city, Plaka. This ancient town is nestled on a high rock and offers incredible views of the Gulf of Milos. Its whitewashed buildings and blue roofs are typical of the Cycladic architecture. It is also home to some fantastic restaurants.
Corfu
One of the best things to do in Corfu is to explore its beautiful Old Town. The town has an interesting history and is home to a beautiful 16th century Greek Orthodox church. The interior features elaborate frescoes and artwork. The island also boasts the tallest bell tower in the Ionian Islands. It is also home to the island's patron saint, Spyridon, a 4th century shepherd. His remains are enshrined in a silver casket, and are paraded through the town during special events.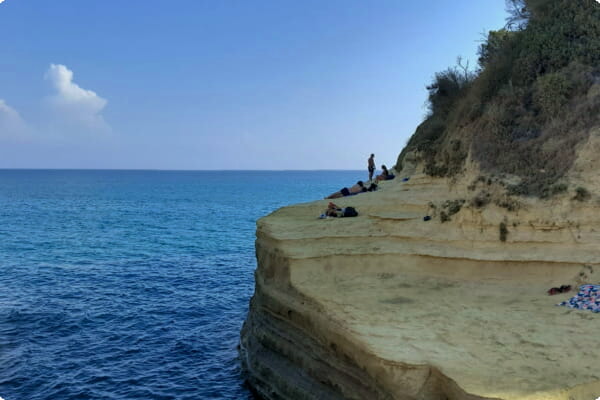 Zakynthos
Zakynthos is a beautiful island in the Aegean Sea, known for its natural beauty and rich history. The island is home to white sandy beaches and deep blue seas, as well as lush inland regions. The island has several beautiful churches and squares, including the Post-Byzantium Museum and the Holy Church of Saint Dionysios. The island is also home to numerous cafes and bars, such as Madisons on Lomvardou 36.
Rhodes
The city is filled with ancient ruins. This area was not protected by defensive walls in the past, and you can still find the remains of temples, bath houses, and marketplaces. The archeological museum here is one of the most interesting sites in the city, and it costs EUR3 to visit.
Mykonos
Mykonos has a variety of museums and galleries to offer tourists. The Archaeological Museum is a popular place to see art from the island's past. The museum is located near the port in the center of the island. The collection features a wide variety of pieces, including vases dating from over 2,000 years ago. It is open from 8 a.m. to 3 p.m., but closed on Mondays. Another museum to visit on Mykonos is the Aegean Maritime Museum, which is located in the village of Tria Pigadia. The museum has six grand exhibition rooms and a leafy courtyard.