Armenia is a beautiful country with many interesting places to visit. Some of these places are not on the typical tourist itinerary. You may be interested in the Haghpat Monastery, the Khndzoresk bridge, Arevik National Park, or Shikahogh State Reserve. This article provides information about these places and others.
Haghpat Monastery
Haghpat Monastery is located in the Debed Canyon. This canyon is home to several UNESCO World Heritage sites, including Haghpat Monastery. It is in this canyon that the famous troubadour poet Sayat-Nova was born and later became a monk.
Haghpat Monastery is a masterpiece of Armenian religious architecture. It represents a unique blend of Byzantine and traditional Armenian architecture. It was built around 976 AD on the site of a pagan temple and is now a UNESCO World Heritage Site. Another World Heritage Site is the Haghpat Complex, which contains a number of stunning examples of Armenian architecture.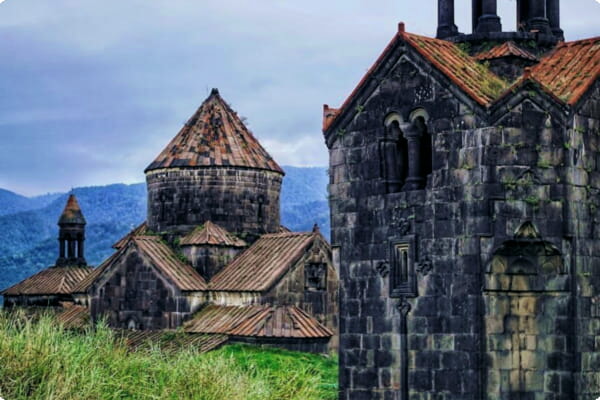 Haghpat Gorge
One of the most beautiful and scenic areas of Armenia is its gorges and mountain ranges. It is also home to several UNESCO World Heritage Site monasteries, such as Haghpat and Sanahin. This ancient monastery was the birthplace of the great Armenian troubadour poet, Sayat-Nova. It was rediscovered by Westerners in the 19th century and is one of the best places to visit in Armenia.
The most popular landmarks of Haghpat include the All Savior cross-stone, which shows Jesus on the cross. The stone is also adorned with figures of angels and the twelve apostles of Christ. The stones are colored with a dye made from the Armenian cochineal insect, "vordan karmir." Another All Savior khachkar, created by master Vahram, can be found in the old cemetery of Dsegh. The monastery was added to the UNESCO World Heritage list in 1996.
Khndzoresk bridge
One of the most memorable and unique places to visit in Armenia is the Khndzoresk bridge. This bridge crosses a gorge and is 207 feet (63 meters) high. It is definitely not for the faint of heart! Another interesting attraction in the city is the tomb of Mkhitar Sparapet.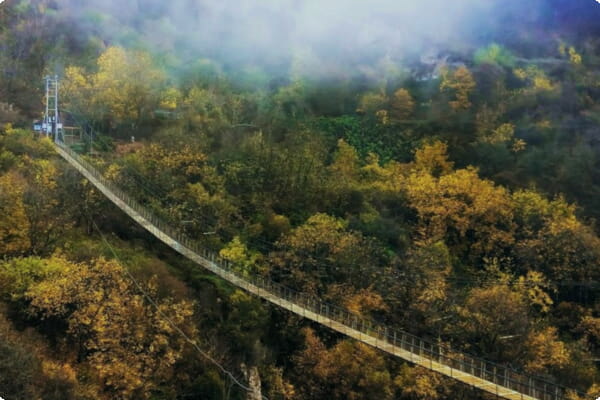 Khndzoresk village is located in the south-east of Armenia. It is only about 4 hours from Yerevan and six kilometers from Goris. Visitors can also visit the Old Khndzoresk cave village, which is abandoned but still worth visiting. This area is also great for hiking and exploring the caves.
Garni Temple
The Garni Temple is one of the oldest structures in Armenia. Built in the first century AD by King Tiridates I, the temple honors the ancient pagan god Mihr. The building's architecture is similar to classical architecture, with scroll-like 'volutes' at the top of columns and bases on them.
The complex also includes the Noah's Garden, which features a souvenir shop and open-air workshops. There is also a restaurant that offers traditional Armenian food and drink. Guests can sample local wines, brandy, gata sweets, and sujukh, which is an ancient Armenian drink.